Bed & Breakfast Accomodation in the Daintree Rainforest
Relax & unwind in the heart of Daintree Rainforest at Epiphyte Bed & Breakfast, located in Cow Bay
Daintree Rainforest - World Heritage Location
Cape Tribulation rainforest accommodation at The Epiphyte Bed and Breakfast, in the heart of the Daintree World Heritage National Park. Two hours north of Cairns in the lush North Queensland tropical rainforest, this unique eco B & B accommodation house is located at beautiful Cow Bay, close to a number of fantastic beaches and boardwalks and handy to the busy tourism hub of Cape Tribulation. With open space visitor lounges and verandahs, spectacular views and en-suite rooms and cottages all with private balconies, The Epiphyte is the perfect place for singles, couples or families/groups.
Epiphytes are plants which grow on another plant (mostly trees) and are usually not parasitic i.e. they use the other plant only for support. We aim to live like this - living in the rainforest but taking nothing away.
There are two main seasons with the Dry season extending from May to December and the Wet, which is also the hottest and most humid time of year from late December til mid May (though, as with climates around the world, these dates are not always reliable). Temperatures during the Dry range from around 25-28 degrees C during the day to as low as 14 degrees at night and in the Wet up to 35 degrees during the day and 25 degrees at night. The Daintree gets around 5 meters of rain a year with the majority in the Wet. Although swimming in the sea is not recommended during the Wet due to the possibility of crocodiles, there are numerous small creeks and waterholes all perfect to cool off in. High Season is from July through to October and Low Season extends for the whole period of the Wet.
During High Season it is advisable to book accommodation and activities well in advance. Let us know what you may be interested in and we are happy to recommend an itinerary and book activities for you so you don't miss out.
If you come to discover, to explore, to understand, appreciate or just to relax and get away - visit our wonderful beaches and waterholes, explore the Great Barrier Reef, experience the Daintree rainforest and the oldest flowering plants on the planet. We look forward to sharing our little piece of Paradise with you. 'Welcome Home' to the Epiphyte B & B.
Epiphyte Bed & Breakfast notebook...
The 'Epiphyte' is situated on a low hill surrounded by and overlooking the rainforest. Thornton's Peak (1,374m), Queenslands third highest, rises spectacularly a few kilometers away across the valley and is a stunning view from the comfortable couches and hammocks of the Epiphyte's front verandah while the beautiful Cow Bay beaches are a short five minute drive away through lowland tropical rainforest.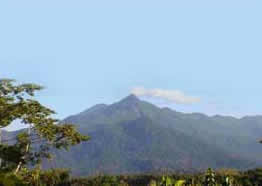 Thornton Peak, Daintree QLD
About Epiphyte B&B
Your Bed & Breakfast Hosts
Founder and Manager: Matt Wilson
"One of the most magical experiences of my life" renowned British naturalist Sir David Attenborough said of his time in the Daintree. It is "a living museum".
More about us
5 REASONS TO STAY WITH US
World Heriatge Location
Surrounded by Unique Nature
Environmentally friendly
Stunning Views and Vistas
Quiet, Peacful Location
10 More Reasons