Daintree Reef Tours and Activities
"We are happy to make any bookings for you on arrival at The Epiphyte. All tours are the same cost to you whether you book direct with the operator or book through us on arrival or through these pages. If you wait until arrival we can give you more information about each tour and how it may suit your interests...also we can let you know what the weather is likely to be. In addition, if you book through us (personally or through this page), we get a small commission which helps us keep our accommodation prices down. So THANK YOU in advance!"
Reef Adventure Tours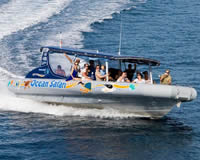 Snorkel or Dive the Great Barrier Reef
Experience the wonders of the Great Barrier Reef by snorkelling off the Daintree coast at Cape Tribulation. This half day eco tour provides a guided snorkel adventure which allows for a minimum of two hours on the reef to explore the dazzling diversity of the underwater world at Mackay Reef.
Cruise to a spectacular reef in just 30 minutes, and visit an extraordinary array of marine life and coral species. Experienced crew will ensure that the day is filled with exhilaration and delight with a reef interpretation presentation on board.