MEET THE OWNER OF EPIPHYTE BED & BREAKFAST
YOUR HOST, EPIPHYTE FOUNDER AND OWNER MATT WILSON
"My Journey to the Daintree Rainforest"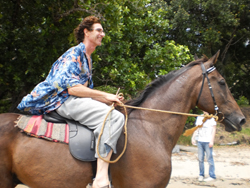 Matt Wilson, owner of The Epiphyte B & B, first came to the Daintree in 1976 as a young man and fell in love with the wilderness, the forests and the tranquility. He never forgot the experience and in 1988 returned and bought land, eventually getting married, having children and building The Epiphyte as a means of introducing visitors to the 'magic' of The Daintree and the importance of protecting the largest remaining block of lowland tropical rainforest in Australia from over-settlement and clearing.
The Epiphyte is now a well-established eco-accommodation house set in 8 acres of rainforest and tropical gardens utilizing solar power and rainwater to provide guests with an insight into sustainable living. A large open space visitors lounge, fantastic rainforest views, comfortable rooms with en-suites and private balconies plus an eclectic mix of guests (both international and Australian) makes The Epiphyte a truly memorable place to base your Daintree experience. 'Welcome home' to the Epiphyte B & B.